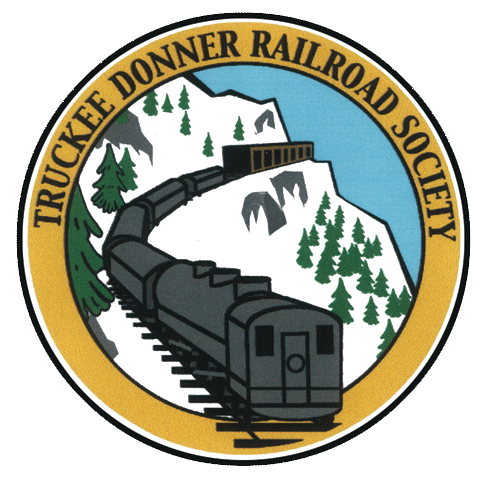 Trestle Tours
Trestle Tours are guided, self driven tours of old railroad lines of the area. See old grade, ties, rail, logging camp sites, and even trestles! At each stop, the significance of the railroad its history is discussed. At some stops, there are short hikes along old grade. Exploration is encouraged! Mostly it is an enjoyable few hours in the beautiful Truckee area talking about whatever comes up. The tours are free, but donations are graciously accepted to the Truckee Donner Railroad Society.
---
2019 Schedule:
July 28, 2019 – Hobart Estates, Boca & Loyalton, and Verdi Lumber Tour – Start in Truckee, CA
---
Hobart Estates, Boca & Loyalton and Verdi Lumber Tour
Come celebrate Truckee's logging history with a tour of the area's logging railroads. We'll travel north on highway 89, swing off the highway and see what's left of the Hobart Mill's locomotive shop, long abandoned logging car bodies, old trestles, and the traces of roadbeds of the Hobart Southern, the Hobart Estates [Sierra Nevada Wood and Lumber Company], the Boca and Loyalton Railway (later the Clover Valley lumber Co.), and the Verdi Lumber Co railroads.
Preparation: Secure a current copy of the USFS'S Tahoe National Forest Map. Read David W Myrick's Railroads of Nevada and Eastern California - Volume I: "Logging Railroads - Lake Tahoe and Truckee River Basin" (pages 416-453), "BOCA AND LOYALTON RAILROAD" (pages 398-409) "VERDI LUMBER COMPANY" (pages 410-415). This will help prepare you for the test. LOL
We recommend hiking gear; good boots or hiking shoes are a must. This is a backwoods adventure, so come dressed comfortably and prepared for an expedition , We will hike a couple of miles [broken into smaller segments], and the trip will cover 40-50 miles of paved highway, USFS system roads, some rather doubtful 4 wheel-drive trails , and old railroad roadbed. It will be hot, dusty, and perhaps showery. Please bring whatever food and drink you'd like to have for a long afternoon -- there will be no fast food available on this tour.
Cameras are recommended. Cell phones are allowed, and should be turned off as we leave Truckee. This trip usually takes from 4-6 hours, depending on road and trail conditions, questions, photo opportunities, avid RR discussions, wildflowers, serendipitous finds, etc., and is never the same twice.
Bring: Sunglasses, hat, water, your camera, snacks, and a lunch as food will not be provided. We expect to have some maps to share and maybe a book or two about area logging railroads to examine (but not keep) while we travel.
Meet at 9:30 AM at the Truckee RR Museum next to the Train Depot in old downtown Truckee.
For more information contact our historian.
---
Fueling the Comstock Tour
TThe Comstock Lode was the largest gold and silver discovery in the world in the mid 19th century. Most of the wood and water that fueled the activity came from the eastern Sierra and Lake Tahoe Basin. Come hear about the innovations, see the meager remnants, and walk where these rugged people worked in the wilderness.
About the tour:
The outing is a self-driven carpool in the area of eastern Lake Tahoe exploring where there were flumes, railroads and trestles. The drive is all on paved roads with stops along the way. At each stop there will be historic pictures, maps, discussion and short hikes. All the hikes are short, mostly level and con-sidered easy. There will be a combination of "vista" stops with an overview of the activity, and "walking in their shoes" stops where there will be a hike on old flume or railroad grade. And watch out, there's scenery everywhere!
The tour lasts about 6 hours. Please bring your camera, layered clothing, trail walking shoes, snacks, drinks, etc…. We will stop at a café for you to buy lunch at about noon. Come join us for a re-laxed, fun day.
The tour is free. Donations are accepted.
What to bring:
The weather should be nice, but it is the Sierra! So come prepared for various weather conditions, bring sunscreen, bug repellant, layered clothing etc… The hikes are short and mostly easy along old flume trails and railroad grade, so bring appropriate shoes. Bring water and snacks. Mostly bring a camera and a sense of adventure for a fun day.
C&TL&FCo
A short, easy tour all on paved roads.
Verdi Lumber
If you are an explorer, this one is for you. There is still a lot to discover for this tour. You will be taken to 2 known logging camps and 4 to 5 jumping off points to find other camps on your own. Help uncover the hidden mysteries.
Boca and Loyalton
Folow the route of the B&L. Dirt roads take us past old logging sites, mountain meadows, and beautiful views.
LakeTahoeRailway & Transportation Co
A short, easy tour all on paved roads.
Hobart Estates
This one starts where the Hobart Estates line connected to the Central Pacific / Southern Pacific in downtown Truckee. It heads north to miles of dirt roads covering the Sierra Nevada Wood & Lumber Company holdings.
2009 Carson & Tahoe Logging & Fluming Co Tour Pictures
See previous year's pictures.
2009 Hobart Tour Pictures
See previous year's pictures.